We're proud to provide a valuable service to our customers. Here are some of their stories!
"We could not be happier with the service provided from all departments at Extreme Marquees, everyone was extremely helpful."
John
"Always great service and great products."
David
"Really pleased with the communication methods, quick delivery and quality product that Extreme Marquees has provided. No doubt I will use your company again in the future."
Jenny
"We love it and get so many compliments. Thanks again for all your assistance and quick service."
Ann
"We love our marquee. We had it all set up before we got the walls for it and it was seen from the other side of the race track. We had a lot of people asked us were we got it from. We highly recommend your company for great, fast service and good quality."
Jamie
"I am very happy with my Marquee. Looks great. Previous businesses I have worked for had your marquees. I would have to say they keep improving in quality.
Hopefully i continue to get great use out of it and it last for ages."
Bruce
"Thanks for your email we are extremely happy with the marquee very strong material and a quality printing job along with a very strong frame at a very affordable price I would defiantly recommend your products."
Kerri Hamadra Drought Masters
"Everything worked for us and we are happy with the end results."
Adam Malvern Lacrosse Club
"I recently purchased 2 true blue II gazebos from extreme marquees along with the detachable valance for both. I received very patient service from Cecilia, the graphic designer, as I sent my design for the valance back and forth multiple times to get it just right. The quality of materials far surpasses the gazebos I've bought in the past. The freight was fast and quite cheap too! When I need another, I'll definitely be giving extreme marquees a call.
Seriously by far the best gazebo I've used since I started business in 2011."
Jamie The Maleny Pie Guy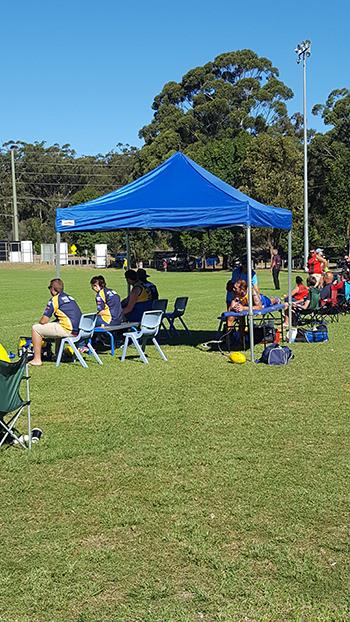 "Nelson Bay Marlins purchased a 3×3 tectonic marquee earlier this year. We are ready extremely pleased with the quality and durability of this product. Your customer service was also amazing throughout the entire process from gaining out quote right through to the quick delivery. We will definitely purchase from you again. I have attached a photo from game day."
Kylie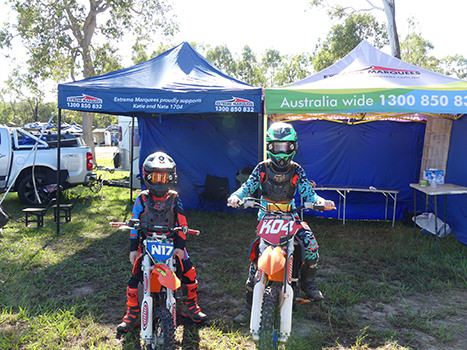 "Thanks for you email re , about our order with Extreme Marquees. Mate to be honest what wouldn't we LOVE about any of our Extreme Marquees products , last year we had been given a GOLD frame marquee , this year we had been given a TRUE BLUE marquee as well as walls , valance and floor as part of a deal with Kristy and Extreme Marquees with Katie and Nate K04N17 jnr mx team , we LOVE all the products we have received from Extreme Marquees , this time however was different to when we received the original gold frame. This time we had been given the opportunity of getting a valance which had to go thru your design department , then also due to limited stock of walls etc , we had also got sent thru to your back order department. This for me really showed what a operation Extreme Marquees really is , and also how lucky we are to be involved with you guys. Right from the get go with your design department coming to us with designs , running thru with us with options , then most importantly was the back order section, they had contacted me straight away to let me know, that there was a stock issue , and gave me a time line , also had kept in contact with me on times. I highly doubt that any of these individuals had known we had a sponsorship deal with Extreme Marquees, so all I can assume is that your whole group is highly skilled at providing unbelievable customer satisfaction . I have always been critical of sponsorship deals from my own racing career now with it being my kids , its not only a case of teaching them about business and sponsorship its also about what they need to do to help with your return on investment but also asking ourselves can we be honest with ourselves with what we are promoting ,we love our gold frame marquees , as do we love the TRUE BLUE but now to see your whole operation from design to backorder to delivery , What can I say ? this is what I can say , We are very appreciative to say we are involved with such a great product but most importantly a GREAT ORGINISATION We love being able to showcase the gold EXTREME MARQUEE as well as the entry level True Blue I can verify all aspects of everything including design are equal to your product , UNBELIEVABLE , we are very honored to be a part of the EXTREMEE MARQUEE family."
Mark
"Thanks for the marquee. We absolutely love it and it really suits its purpose. Great quality!"
Peter Coorong Cafe
"We had a successful set up practice today of our new marquee in our ship yard and were pleased with the ease of assembly and quality of construction. The sea breeze was in and the sandbags held it steady.
The big event is 12 Nov at Fremantle Port Maritime open day, so we will send you photos following that event that will be suitable for promotion purposes but in the meantime here is pics from today."
Christine
"we are very pleased with the inflatable which looks great in the attached photo.
The design process was quite straightforward.
Delivery time was as agreed – we were on quite a tight timeline and you delivered – as well as keeping us informed when requested which was good.
I had to call the office to get some advice regarding inflation pressure and so on after delivery "
Johnny
"The product work was fantastic help and arrived in good time.
I found the support people to be a fantastic help.
The price quoted for the product was generous and helped us out with the limited grant funding we had to spend.
I would be happy to recommend their products ad services to anyone.
Will send one when I have one inside the station marquee!"
Cynthia
"Thanks for our recent orders! Here is some pictures attached, I am so happy with the outcome.
I am ordering the new detachable banner for Calamari this time, hope the next order turn out so good like this one."
Shima
"service has been great! William Pole dealt with the roof issue quickly so we are happy with that. I have attached a few photos of the marquee put together."
Isaac
Bardon Scouts
Mark
"We are stoked with the flags we ordered. To be honest a lot bigger than I pictured but they came up great. Have attached a photo of the flags up at our Dyno day a few weeks back."
Nick
"The team at Extreme Marque's done a great job from start to finish with my order, I know I was pushing for time once finalising the order but everyone managed to get the product delivered and all went well.
The event was a huge success and there was many comments over how good the marque looked and presented, Katherine and Kelsey were particularly helpful with the process.
I will be sure to recommend your business to the broader team here at Murray Goulburn / Devondale"
Fiore
"Stanthorpe City Football Club recently purchased 2 marquees and I just wanted to say how great Extreme Marquees was to deal with throughout the whole ordering process.
All staff that I emailed or spoke with were great to deal with and nothing was ever too much trouble. Delivery was also very quick and prompt."
Madalene
"Our recent experience with Extreme Marquees was a pleasant one. Your team works very hard and you should be very proud of the results. Thank you"
Andria
"Frankly we were impressed with you and your company from start to finish. Price was competitive and according to our specifications list, the product was superior. The design work was done thoughtfully and the result was outstanding. (As seen by the photographs.) Delivery was as promised and within a very short time-frame.
The marquees have been used by a wide variety of Community Groups and they have all appreciated the ease of putting up and packing up.
Thanks for a job well done."
Rob
"The marquee quality is amazing and we are very happy with it. We held an event on Saturday and catered to well over 1,000 children."
Kay
"Feedback for our marquee – It's fantastic work and the graphics are great.. We used it at a local wine festival and with the help of the marquee we certainly announced the arrival of our brand!"
Brian
"We were very happy with everything, from the ordering, producing, quality of product and easy of putting the product up."
Janelle
"We think it looks great and hope you agree and can use them to show people what you do and how good it can look."
The team at 12 Volt Direct
"I would like to thank the team at Extreme Marquees for their professional customer service and outstanding product quality. Your graphics team were very accommodating of my ideas and design suggestions!"
Kate
"We think it looks fantastic, and are extremely impressed with the colour and the print."
Lisa
"I have to say how impressed I am with Extreme Marquees…..not only about the pricing but delivery… The Marquee arrived ahead of schedule and is everything promised and more….I highly recommend your company and would have no hesitation in recommending you to anyone looking for a great, easy to assemble, Marquee…"
Julie-Ann